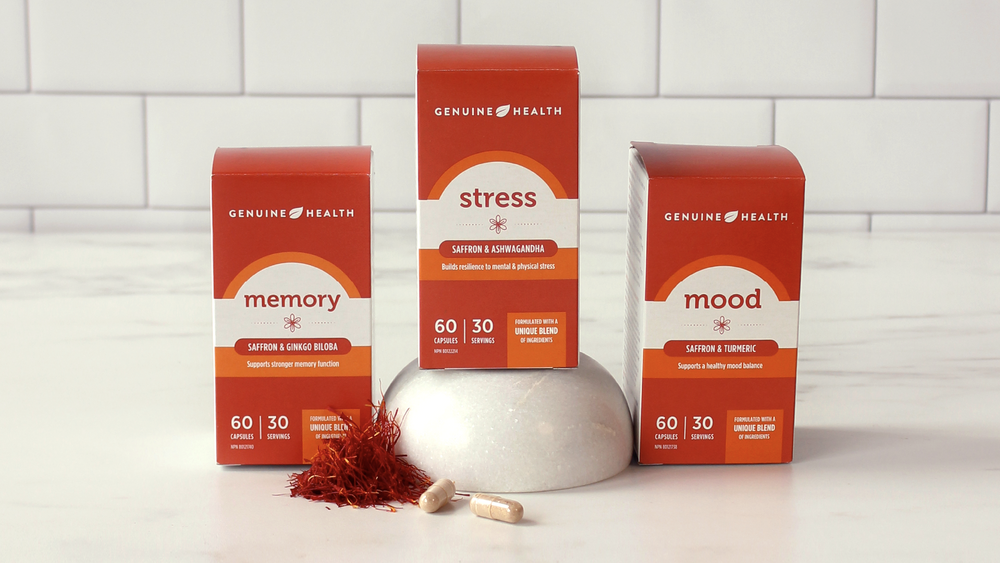 Now more than ever, mental outlook is top of mind. Maintaining a positive mental outlook means we have a strong ability to navigate life's ups and downs with resilience, so we can lead productive, happy, and fulfilling lives. Unfortunately, not enough of us are flourishing. We all know people that are struggling, whether it is you, your friends, your family. By the time Canadians reach the age of 40, 1 in 2 have – or have had – a mental illness.¹ 
At Genuine Health, we recognize the growing number of people that face challenges with their mental outlook daily, with a growing need for a natural and effective solution to help people cope with the demands of today's fast-paced and stressful world. That's why we've dedicated ourselves to doing the research and finding a natural and unique ingredient to help optimize your brain health.  
Saffron, also known as the "sunshine spice", has been used for hundreds of years in traditional medicine- all the emerging research caught our attention! Saffron is harvested by hand from the crocus sativus flower. The term "saffron" applies to the flower-like thread structure called stigma that are inside the petals. It's the most expensive spice in the world, often referred to as "red gold."  
We learned that there are many benefits, from cardiovascular protection to inflammation. But for us, the interesting research was around depression, stress, and memory- it caught our attention. Small clinical studies showed results that compared to SSRI drugs (anti-depressants).⁴'⁵'⁶ Preliminary research indicates saffron supports mood and the antioxidant properties may potentially improve cognition in adults with Alzheimer's disease.²'³ Saffron is truly at the intersection of traditional healing and modern medicine. 
So how does saffron work? The chemicals in our brain are constantly self-regulating to maintain balance, but external factors can play a part in disrupting that. For example, sadness can be registered as an external stressor to your body, therefore disrupts the equilibrium. Our body will work to try and fix this imbalance, but sometimes we need some additional support. Premium natural ingredients such as saffron have been shown in research to support this re-balancing effect. 
Saffron has been researched on balancing neurotransmitters such as dopamine, and serotonin (our feel-good hormones) by inhibiting the reuptake of these neurotransmitters so that they stay circulating in the brain and can exert beneficial effects. Research indicates saffron may facilitate neuroplasticity (the ability of the brain to form and reorganize neural connections). Saffron is also a source of antioxidants, protecting against the oxidative stress, and may decrease cell death in the brain to maintain levels within the normal range. 
Meet our new line of Saffron products! They each work in combination with various research-proven ingredients found in nature. Each of these products have been designed to support the key components of your brain health, so you can feel the difference and take on life with a good mood, better memory and less stress. 
Let's talk about stress 
stress is here to keep you calm, relaxed and rested, even on your most stressful days, uniquely formulated to help you manage and reduce common symptoms of stress such as fatigue, weariness and irritability. Our formula contains Saffron extract (affron®) and has been research-proven to regulate and improve your body's natural stress response. Each dose also includes adaptogenic (stress-supporting) Ashwagandha (KSM-66 Ashwagandha®) and Passionflower extract to help promote feelings of relaxation, while encouraging restorative sleep. With consistent use, every capsule will help you cope with life's challenges with more ease and build long-term resilience to both mental and physical stress. 
What's your current mood? 
mood offers an effective and natural way to keep you feeling uplifted. Saffron (affron®) has research-proven mood-balancing effects and numerous studies have explored the possible beneficial effects Saffron has on neurotransmitters like dopamine and serotonin, both of which contribute to a balanced mood. We've also included Turmeric, a powerful antioxidant used in herbal medicine as an anti-inflammatory, that works to fight oxidative stress. Our unique and research-proven combination work together to provide results you can feel, so your good moods can lead to even better days. 
How is your memory? 
memory has been designed to support your brain health, sharpen your thinking, and strengthen your ability to remember. Many factors can lead to brain fog and forgetfulness, including aging, high stress levels and fatigue. We've included a powerful combination of saffron, sage and ginkgo biloba, that actively work to support your memory function. Learn new things and problem-solve with more ease, while feeling more productive and prepared to take on your busy days. This is an excellent way to simultaneously support your cognitive health and promote better memory. 
References: 
The crisis is real. Retrieved from

https://www.camh.ca/en/driving-change/the-crisis-is-real#:~:text=According%20to%20the%20World%20Health,reach%2040%20years%20of%20age

.

 

 Lu C, Ke L, Li J, Zhao H, Lu T, Mentis AFA, Wang Y, Wang Z, Polissiou MG, Tang L, Tang H, Yang K. Saffron (Crocus sativus L.) and health outcomes: a meta-research review of meta-analyses and an evidence mapping study. Phytomedicine. 2021 Oct;91:153699. doi: 10.1016/j.phymed.2021.153699. Epub 2021 Aug 8. PMID: 34419735.

 

 Adalier N, Parker H. Vitamin E, Turmeric and Saffron in Treatment of Alzheimer's Disease. Antioxidants (Basel). 2016 Oct 25;5(4):40. doi: 10.3390/antiox5040040. PMID: 27792130; PMCID: PMC5187538.

 

Akhondzadeh S, Fallah-Pour H, Afkham K, Jamshidi AH, Khalighi-Cigaroudi F. Comparison of Crocus sativus L. and imipramine in the treatment of mild to moderate depression: a pilot double-blind randomized trial [ISRCTN45683816]. BMC Complement Altern Med. 2004 Sep 2;4:12. doi: 10.1186/1472-6882-4-12. PMID: 15341662; PMCID: PMC517724.

 

 Akhondzadeh S, Tahmacebi-Pour N, Noorbala AA, Amini H, Fallah-Pour H, Jamshidi AH, Khani M. Crocus sativus L. in the treatment of mild to moderate depression: a double-blind, randomized and placebo-controlled trial. Phytother Res. 2005 Feb;19(2):148-51. doi: 10.1002/ptr.1647. PMID: 15852492.

 

Akhondzadeh Basti A, Moshiri E, Noorbala AA, Jamshidi AH, Abbasi SH, Akhondzadeh S. Comparison of petal of Crocus sativus L. and fluoxetine in the treatment of depressed outpatients: a pilot double-blind randomized trial. Prog Neuropsychopharmacol Biol Psychiatry. 2007 Mar 30;31(2):439-42. doi: 10.1016/j.pnpbp.2006.11.010. Epub 2006 Dec 15. PMID: 17174460.

 
Use left/right arrows to navigate the slideshow or swipe left/right if using a mobile device