Give the Gift of Wellness this Holiday Season!
We've taken the guess-work out of gift-giving with our perfectly curated holiday bundles!
Gift Set for the Coffee Obsessed!
If they like coffee, they'll LOVE this healthy coffee gift set that includes a clean collagen for healthy skin, frother for at-home lattes and a reusuable glass coffee cup to go anywhere they go.
Set includes: marine clean collagen unflavoured + Genuine Health reusable glass coffee cup + milk frother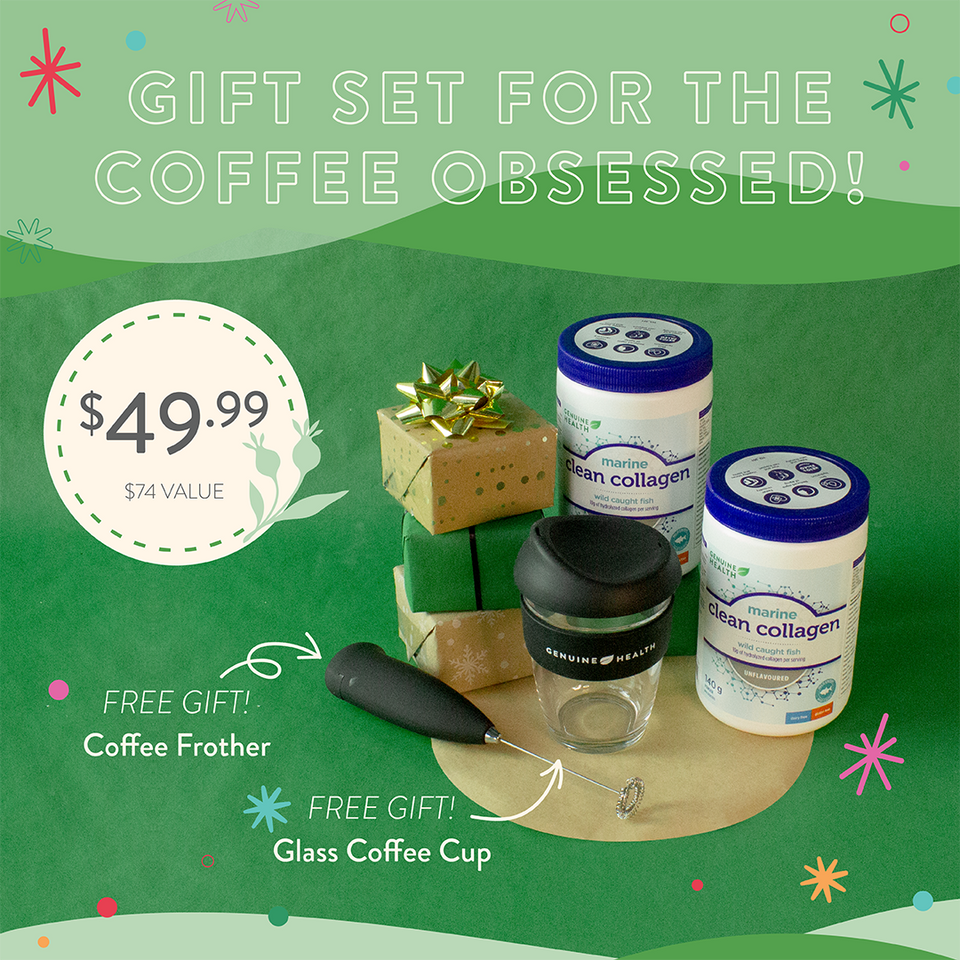 ---
Gift Set for the At Home Workout Warrior!
The gift set that keeps them sweating and recovering into the new year! Includes a 30-day supply of our bestselling no-bloat fermented vanilla organic vegan proteins+ which helps to rebuild muscles after a workout, our greens+ original, helpful for preventing stiffness after a hard workout and a one-month subscription to the Sweat with Kelsey App and a Sweat With Kelsey Booty Band!
Set includes: fermented organic vegan proteins+ vanilla 600g + greens original + Sweat With Kelsey Booty Band + 1 month of Sweat With Kelsey App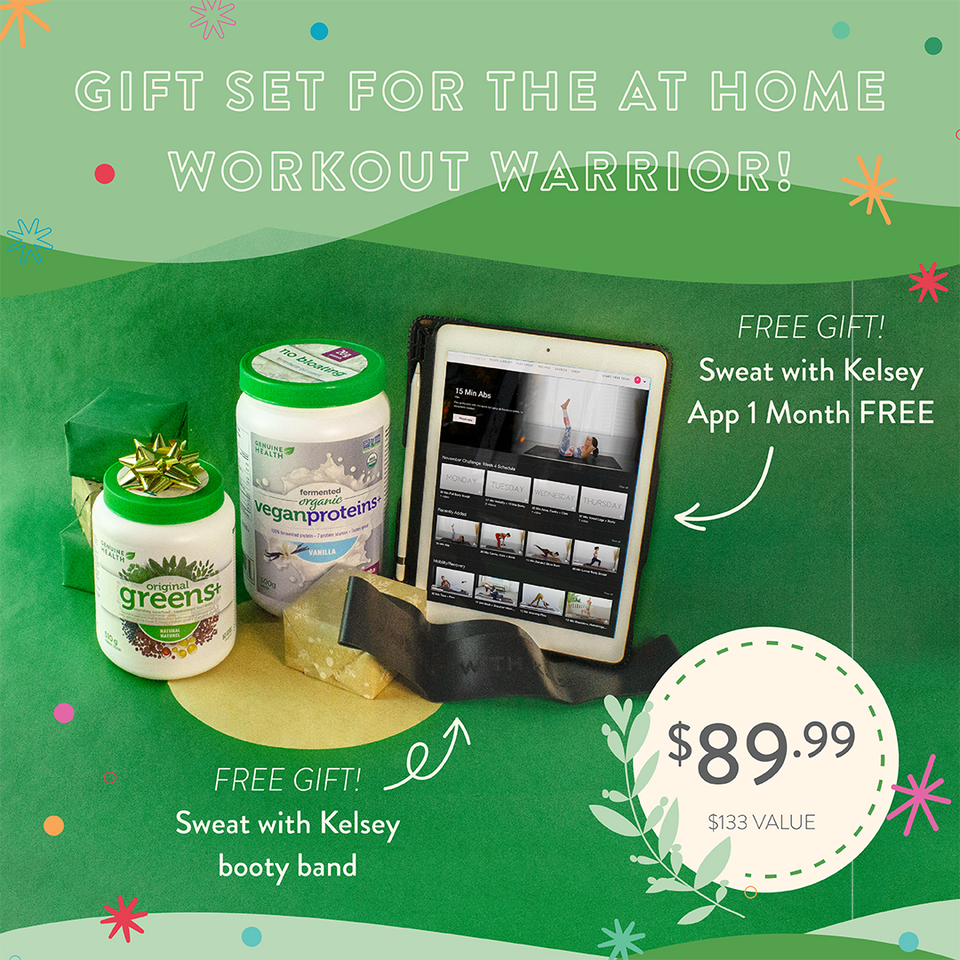 ---
Gift Set of Self Care this Holiday Season!!!
Give them the gift of glowing skin and self -care with this extra luxe set! We all need a a little self-care. With this gift set, they'll be taking care of themselves from the inside and outwith skin-boosting marine clean collagen, advanced gut health probiotic women's daily for gut and skin health and our favourite fermented protein to support nutrient absorption. And for extra glowy skin, we've added two Province Apothecary Regenerating and Resurfacing masks. Set includes:advanced gut health probiotic women's daily + marine clean collagen unflavoured 140g + fermented organic vegan proteins+ vanilla 600g + 2 x Province Apothecary Regenerating & Resurfacing Face Masks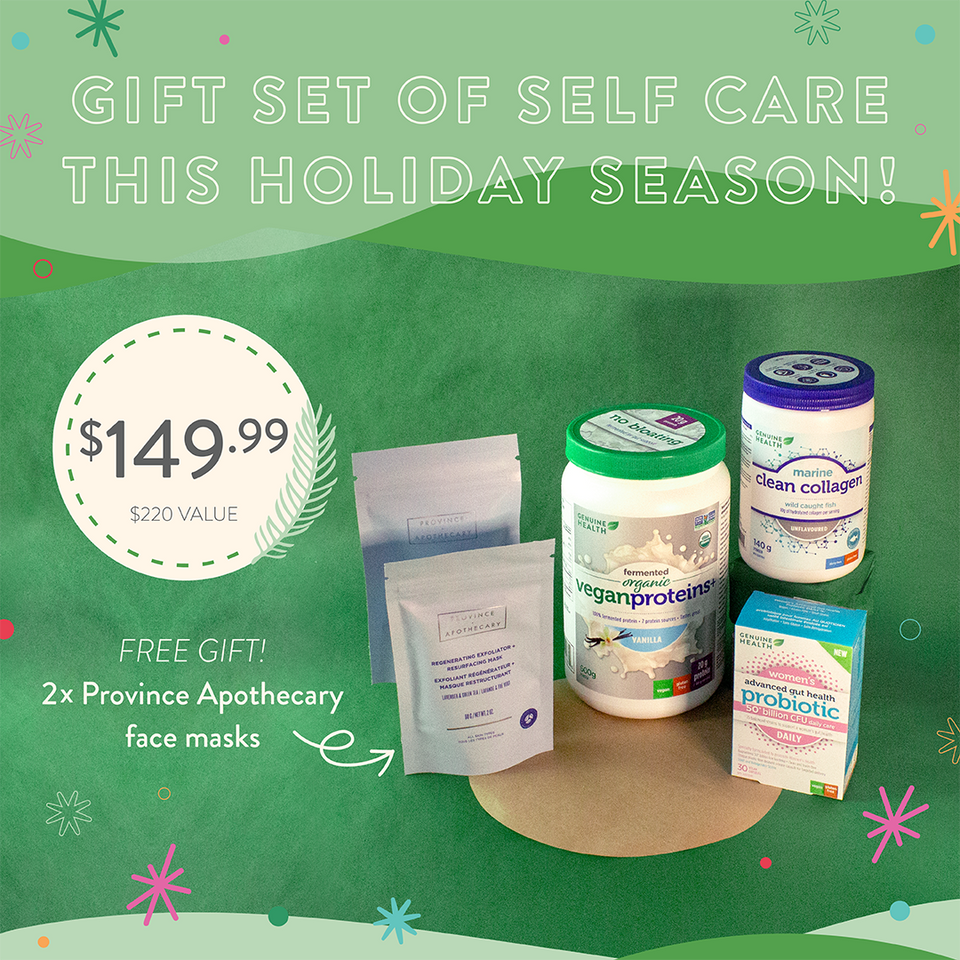 ---