Canadian Made, Family-owned & Operated: The Genuine Health and greens+ story
Posted on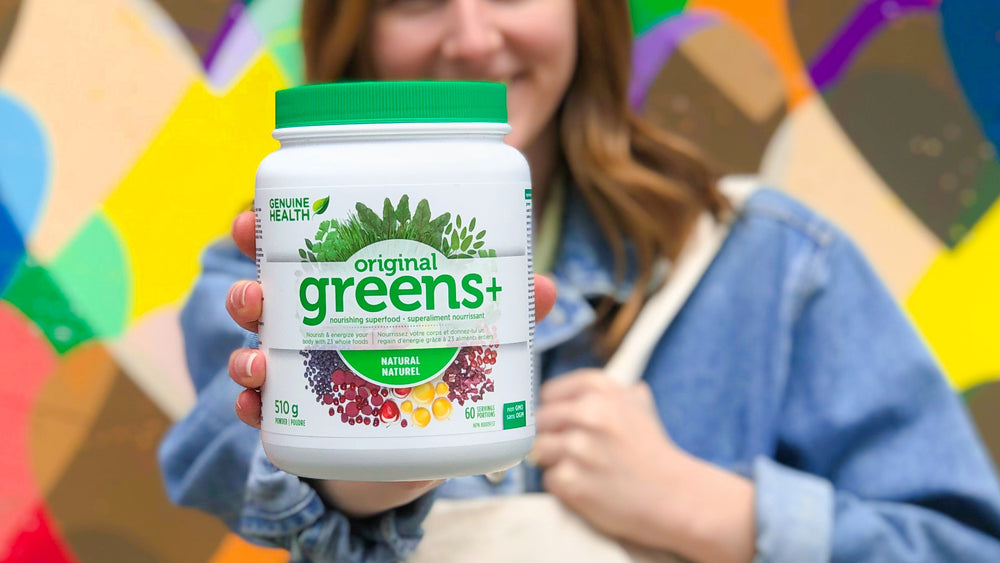 I love natural health. I've been in this industry since I was 16 years old, and I can't imagine doing anything else with my life. But the natural health supplement industry in Canada is changing. It used to be that supplement companies were small, grassroots companies whose reason for being was to provide an alternative to the big CPG companies. But in 2019, you may be surprised to learn that many natural health supplement companies are now owned by larger parent companies… which means that the Canadian product you think you're buying may not be Canadian anymore.
With all these things happening, there couldn't be a better time to tell our story, and share where we're going next.
The greens+ story
My passion for natural health started early in life when I suffered from health issues and found solutions through holistic modalities and supplements. Experiencing the benefits of natural approaches first-hand sparked my desire to learn more, and I began my career as a sales rep in Western Canada selling food and skincare items for my father's natural food business.
I spent 5 years in Western Canada learning the ropes before returning Toronto, inspired to expand my reach in helping people by opening up my own chain of natural supplement stores: Supplements Plus.
My first store opened in 1986 on Church Street. Not long after it opened, the AIDS crisis hit, and Supplements Plus was in the heart of the epidemic. I learned a lot at that time – I was doing my best to help those affected and watched the community around me in crisis, as friends were lost. It was an important time in history and it was an important time in my life, as it created the value system of what became Genuine Health.
It was also during this time I met Sam Graci, a former-guidance counsellor who developed an incredible nutritional product after working with at-risk youth. Sam noticed that when their diets were supplemented with plant-rich nutrients found from a wide variety of sources, their behaviour improved. So Sam set out to formulate a product unlike anything else.
The product was
greens+
, an incredible blend of 23 rare superfoods, grasses, algaes and botanical extracts that provides the body with a source of nutrition that can't be found in the everyday diet.
At that time, health store aisles were lined with single vitamins and minerals, and greens+ was the first complete formula rich in phytonutrients that helped people
truly
nourish their body.
I started selling greens+ in my stores in 1993 and after seeing the effects it had on myself and my customers, I knew I had to do more to bring it to all Canadians. In 1995 I sold my 3 Supplements Plus stores and started what became Genuine Health, distributing greens+ all over Canada.
More than 25 years have passed since then, and greens+ continues to improve the lives of Canadians every day. To this day, greens+ is still Canada's #1 and most-researched superfood supplement (with 9 studies backing its effectiveness).
I'm so proud of what we've done since then. We helped to pioneer the fish oil category in Canada, with fresh-clean and pure omegas made for different health concerns. We brought effective, natural pain relief from eggshell membrane and now BiovaFlex® eggshell membrane to Canadians. We created the first line of fermented supplements and proteins, with fermented whole body nutrition with greens+ and fermented vegan proteins+. And we created the first superfood made for the gut.
fermented organic gut superfoods+
was formulated by looking at the science behind polyphenols, the class of phytonutrients that make greens+ so effective.
So what's next for Genuine Health?
In our ever-changing industry, where we have become used to big CPG companies buying up our beloved Canadian brands, I am proud to be doing the opposite and continuing to build the strength of Canadian family-owned companies. I'm so excited that
basd
body care is now part of the Genuine Health family.
basd
makes clean, organic plant based products that work—which now means that you can count on Genuine Health to nourish your body, inside and out!
We have five core values that are very important to us at Genuine Health, of which basd aligns perfectly.
First, what we do matters.
At Genuine Health, we are so fortunate that we have the opportunity to change people's lives every day, and we take that responsibility very seriously.
Second, what we put in the bottle matters.
We're passionate about looking at the latest research in nutritional science to drive innovation in our products. And we have an unwavering commitment to only use the most effective ingredients, like hand-picked dulse from the North Atlantic, and Siberian ginseng, standardized to a dose that will actually provide a benefit.
If you've ever had a hard time finding your favourite Genuine Health product, it's because we don't sacrifice quality for quantity. We produce in smaller batches and always insist on using ingredients that meet our standards—not ingredients that are easy to find.
Third, how we treat the planet matters.
Canada is among 6 countries that 70% of the world's remaining wilderness, so we are committed to helping preserve these valuable resources for years to come. What this means to you is that we source the
most effective
ingredients that we can find
closer
to home—for example we use grass-fed cow hides sourced from the United States in our new
clean collagen
, rather than sourcing from South America.
Fourth, how we treat people matters.
We realize that not everyone has access to nutrition—so we share our supplements with people and animals less fortunate than us so we can all thrive together.
And fifth, providing you with the latest credible information matters.
Nutritional science is ever-evolving, and so we make it a priority to provide education on what
actually
matters to you.
The most important thing to me is that the products that we create make a difference in your life, by giving your body the nourishment it needs inside and out, to bring you more energy, vitality and overall health and wellbeing, to ultimately unleash your genuine health.
Use left/right arrows to navigate the slideshow or swipe left/right if using a mobile device