5 Wellness Categories to Prioritize this Year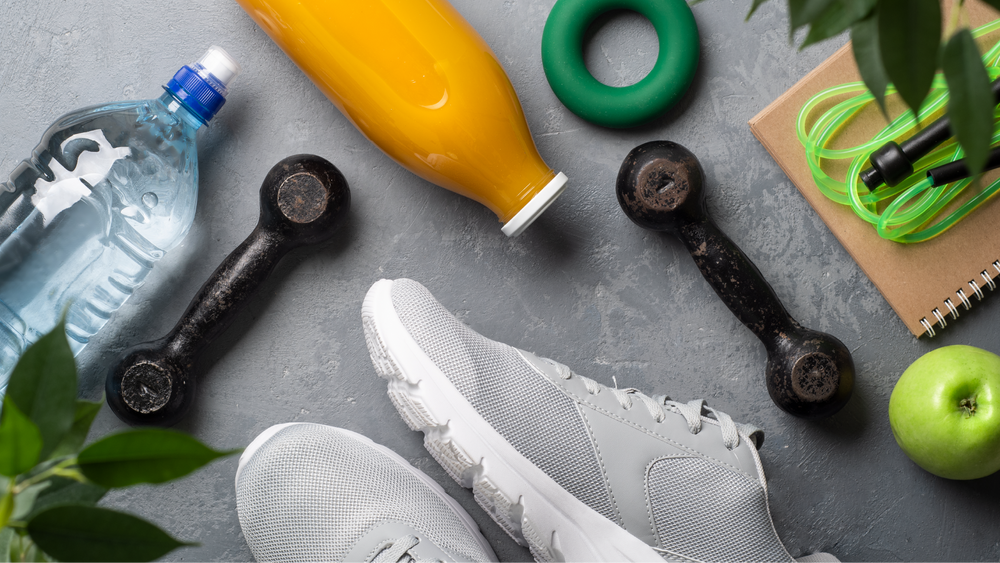 Let's embrace the New Year equipped with all the wellness tools we'll need to manifest our healthiest and most inspired lives yet. This year we'll be directing our focus towards Fitness, Sleep, Gut Health, Beauty and Energy. 
Check out our simple but effective tips below to make each of these wellness pillars a priority this year. 
Level Up Your Fitness
Fitness means different things to different folks. Whether you're rolling out a yoga mat for the first time or adding a new sport or active hobby to your existing regime, success with your fitness goals comes down to setting intentions that uniquely support you and your lifestyle.  
Cut the comparison and focus on your personal path by taking stock of where you are currently in your fitness journey and then look forward to where you are inspired to be.  
Also factor in how much time and energy you can realistically put into your intentions. If you're home with a newborn, hitting the gym 6 days a week might be unrealistic, but subscribing to recorded home workouts that you can do at your convenience might make more sense.  
Set smaller goals that you can accomplish with reasonable effort and then slowly build on that success. Focus on how fitness makes you feel and use that as motivation to keep going. Let go of setbacks and self judgement and remember that improving your overall fitness and health can be a lifelong commitment with ongoing rewards. 
Prioritize Quality Sleep
The yin to fitness goals, quality sleep, is paramount to living your healthiest existence. Creating a space and routine that's conducive to rest are some of the simplest ways to make this wellness category a priority.  
To curate a sleep-friendly space, charge your devices out of the bedroom and use a sleep app to turn notifications off an hour before bedtime. A warm bath, meditation or restorative yoga can really help signal to the body that it's time to wind down for bed. 
You can also try deep sleep, made with organic reishi mushroom! All-natural and non-habit forming, deep sleep helps to quiet the mind so that you can fall asleep more easily, stay asleep for longer and feel refreshed when you wake up. 
To further support a healthy sleep environment, you can try out a sunrise alarm clock instead of using your phone to get up in the morning. Not only does this gently rouse us with a simulated sunrise instead of jolting us awake, it also reduces the temptation to wake and scroll, inviting mindful waking moments instead. 
Optimize Gut Health 
Gut Health is the epicentre of our body's wellness. When our gut is out of balance everything else may feel off too. To support your digestion and gut health from the moment you wake up in the morning, drink a big glass of room temperature or warm water. You can even squeeze in some lemon, which can help get things moving! 
It's also crucial to support a healthy gut environment by eating a nourishing assortment of whole foods. It's beneficial to keep an "everything in moderation" motto, but remember that processed junk foods won't result in a happy gut. Instead, set the intention to stay away from chemicals and additives where possible and reach for a rainbow of whole foods or rich greens instead. 
Bring Out Your Natural Beauty
Beauty comes from within and when we nourish our bodies from the inside out, our external glow is that much brighter. All of the categories covered so far contribute to beauty - exercise, rest, healthy digestion and food choices all help with looking and feeling our best.  
In addition, you can nourish that healthy glow by supporting your skin health. Start with a very simple action that is FREE and EASY to do – drink more water! Fill a large water bottle at the beginning of the day to keep track of how much water you're consuming. 
To reduce blemishes and support youthful-looking and hydrated skin, we also recommend taking perfect skin! This all-natural supplement contains Omega-3-EPA concentrate, green tea extract, zinc and chromium, all of which are proven to support the maintenance of healthy skin. 
Support Your Energy
This final wellness category is something all of us need to focus on - energy! Bring more vitality into your life with greens+ extra energy. It features 11 energizing superfoods and is available in delicious dark chocolate, vanilla, natural orange and cappuccino flavours. 
Doing more of the things that you love may also naturally energize and inspire you! This year, make sure to spend time with friends and family, get out into nature, prioritize movement every day and set aside time for hobbies and activities that bring you joy and inner peace.  
Remind yourself that you can't pour from an empty cup, so prioritizing rest is also crucial. 
Get Ready for Your Healthiest Year Yet
By prioritizing these 5 wellness categories in your life this year, you'll find it easier to achieve your health goals in a more sustainable way. Take it slow, make a plan, stick with it and just wait and see how much you'll accomplish by next December! 
Use left/right arrows to navigate the slideshow or swipe left/right if using a mobile device