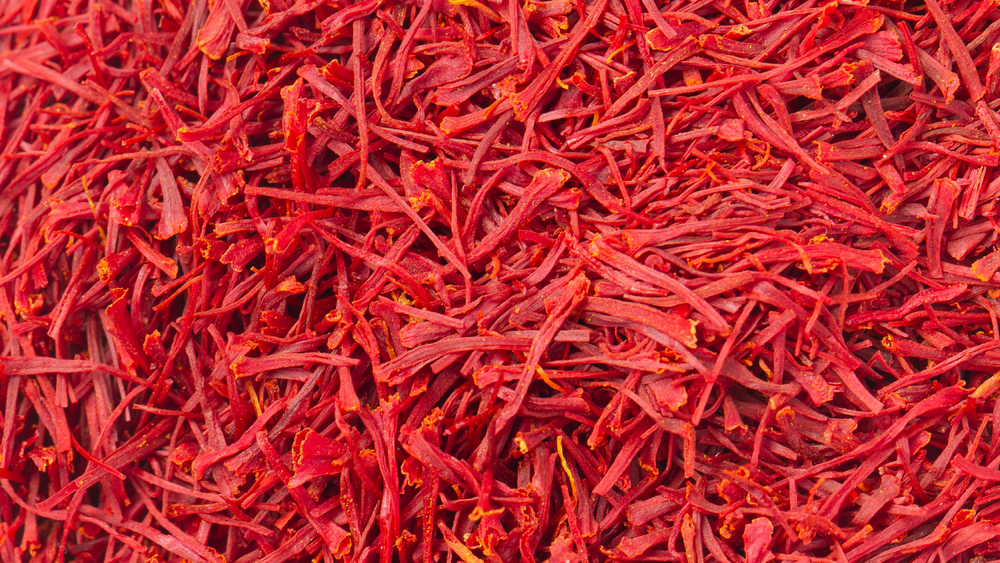 When you hear sunshine spice, what comes to mind? Maybe it's a bright coloured herb or a food seasoning that makes you feel happy. When it comes to saffron, it is exactly that. The term "saffron" applies to the thread structure called stigma- a vivid crimson hue found inside the petals of the crocus sativus flower. Due to its delicate nature, the stigmas need to be harvested by hand, making it the most expensive spice in the world (often referred to as red gold)! 
Saffron has been used for hundreds of years, originally cultivated in the Middle East, and later in some Mediterranean countries.³ It is a multipurpose spice used in culinary dishes (a little goes a long way, only a sprinkle is needed), dyes in textile industries, it's even incorporated into perfumes to provide a unique warm aroma. Not only that, saffron has been used in traditional medicine for hundreds of years, as there have been many examples of benefits, from cardiovascular protection to inflammation. But for us, the interesting research was around depression, stress and memory. Often referred to as the sunshine spice, saffron has been shown to have profound benefits on mental health and mood support.  
With emerging research on brain health, saffron caught the science world's attention. Small clinical studies showed results that compared to SSRI drugs (anti-depressants). There is even preliminary research that indicates it supports mood and saffron's antioxidant properties may potentially improve cognition in adults with Alzheimer's disease. ¹'² 
So how does saffron work to balance our mood and reduce symptoms of stress? Chemicals in our bodies are constantly striving to maintain a balance within a normal range (known as homeostasis).⁴ This includes important chemicals called neurotransmitters that are needed to carry messages throughout our brain and body. Neurotransmitters such as dopamine and serotonin make us feel happy and stabilizes our mood. When we experience emotions such as nervousness, this can be registered as an external stressor to our body, causing an imbalance of our neurotransmitters. Your body can work hard to try and fix this imbalance, but sometimes we might need some additional support. Premium natural ingredients like saffron have been shown in cellular research to maintain neurotransmitter levels within the normal range. Not only that, saffron has been shown to facilitate neuroplasticity: the ability of the brain to form and reorganize neural connections to strengthen and maintain communication.⁵ We can't forget the powerful antioxidant effect saffron has to alleviate oxidative damage and counteract inflammatory responses that are caused by mood imbalances.  
At Genuine Health, we want everyone to have the freedom to live the life they want to live, both physically and mentally. We all know people who are struggling, whether it is you, your friends, your family. Not enough of us are flourishing. We recognize our role in offering a powerful and effective solution to help you cope with the demands of today's fast-paced and stressful world. That's why we've dedicated ourselves to doing the research and finding a natural and unique ingredient to help optimize your brain health.  
Meet our new line of Saffron products! Harness the power of the sunshine spice in combination with various research-proven ingredients found in nature. For centuries, many cultures have understood the nootropic benefits of adaptogens, such as ginkgo biloba, ashwagandha and passionflower as well as powerful antioxidants such as turmeric and sage. Each of these products have been designed to support the key components of your brain health, so you can feel the difference and take on life with a good mood, better memory and less stress. 
Lu C, Ke L, Li J, Zhao H, Lu T, Mentis AFA, Wang Y, Wang Z, Polissiou MG, Tang L, Tang H, Yang K. Saffron (Crocus sativus L.) and health outcomes: a meta-research review of meta-analyses and an evidence mapping study. Phytomedicine. 2021 Oct;91:153699. doi: 10.1016/j.phymed.2021.153699. Epub 2021 Aug 8. PMID: 34419735.

 
Adalier N, Parker H. Vitamin E, Turmeric and Saffron in Treatment of Alzheimer's Disease. Antioxidants (Basel). 2016 Oct 25;5(4):40. doi: 10.3390/antiox5040040. PMID: 27792130; PMCID: PMC5187538.

 
El Midaoui A, Ghzaiel I, Vervandier-Fasseur D, Ksila M, Zarrouk A, Nury T, Khallouki F, El Hessni A, Ibrahimi SO, Latruffe N, Couture R, Kharoubi O, Brahmi F, Hammami S, Masmoudi-Kouki O, Hammami M, Ghrairi T, Vejux A, Lizard G. Saffron (

Crocus sativus

 L.): A Source of Nutrients for Health and for the Treatment of Neuropsychiatric and Age-Related Diseases. Nutrients. 2022 Jan 29;14(3):597. doi: 10.3390/nu14030597. PMID: 35276955; PMCID: PMC8839854.

 
Puderbaugh M, Emmady PD. Neuroplasticity. [Updated 2023 May 1]. In: StatPearls [Internet]. Treasure Island (FL): StatPearls Publishing; 2023 Jan-.

 
Use left/right arrows to navigate the slideshow or swipe left/right if using a mobile device