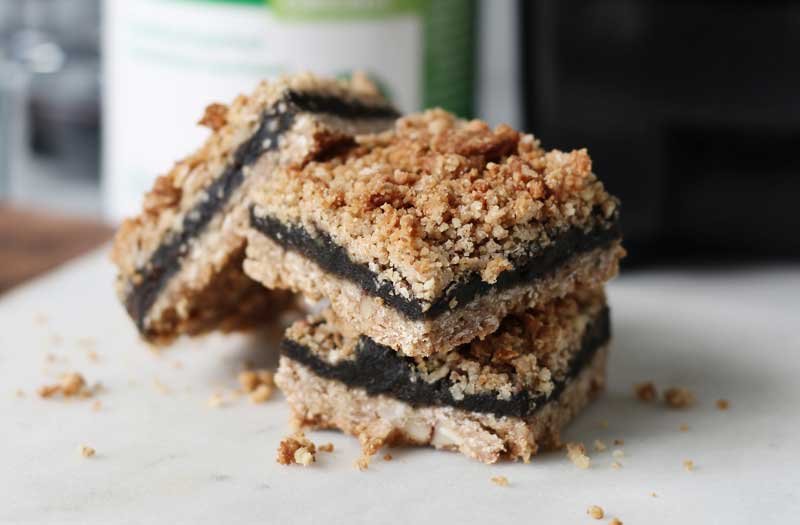 These date bars are PACKED with nutrition and healthy plant energy and taste incredible!  They stick together really nicely too thanks to the ground almonds and honey or agave syrup (your choice) and can be stuck in the freezer once cut up to include in your lunch or to grab with your morning coffee or tea heading out the door. The dates are a great vehicle for the 
greens+
; you can't even tell there are greens in the bars!
Ingredients:
20 pitted Medjool dates, chopped
1 ½ c. water
1 tsp. vanilla
1 tsp. grated orange zest
¼ c. greens+ original
1 c. almonds, toasted
2 c. large flake oats
1 c. whole wheat flour
1 tsp. baking powder
¼ tsp. sea salt
1 tsp. cinnamon
1/3 c. brown sugar
1 c. unsweetened shredded coconut
¼ c. agave syrup or honey
¾ c. melted coconut oil
¼ c. hemp hearts
Directions:
Preheat the oven to 350F and line a 9×13″ baking dish or pan with parchment paper (I grease the pan first to let the paper stick).
Place the dates and the water in a medium saucepan and simmer over medium-low heat until the dates are soft and break down, approximately 20 minutes.  Stir in the vanilla, orange zest and the greens+ ORIGINAL and set aside.
Add the almonds, oats, whole wheat flour, baking powder, sea salt, cinnamon, brown sugar and coconut to your blender.  Using level 7, pulse by turning it on for a few seconds and off until the oats and almonds are finely processed (about 8-10 pulses).  Transfer the mixture to a large bowl and add the agave syrup or honey, coconut oil and hemp hearts and mix together with a large spoon until the mixture sticks together.
Take 3/4 of the oat mixture and firmly press it evenly in the bottom of the prepared pan.  I use a flat-bottomed cup for this part at the end to get it completely smooth.
Spread the date mixture evenly on top of the oat base with a rubber spatula, and sprinkle on the remaining oat mixture on top of the date layer.
Bake for 25-30 minutes, until the bars are golden brown.  Cool completely, remove from the pan (by lifting the edges of the parchment paper) and cut into 24 squares.
Use left/right arrows to navigate the slideshow or swipe left/right if using a mobile device