Keeping Inflammation at Bay
Posted on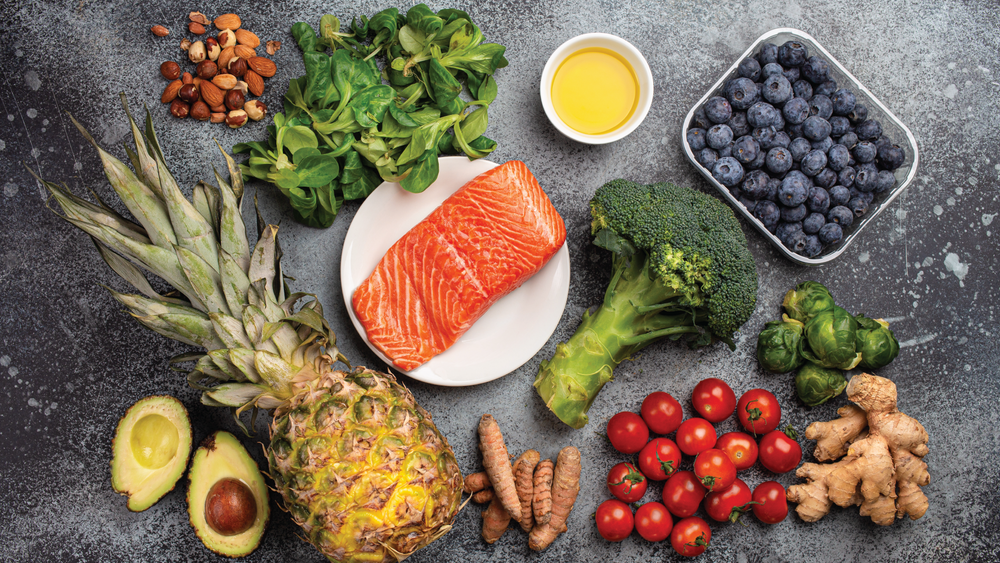 Day in and day out our bodies are working to keep us healthy and well. Inflammation is a very normal part of the equation, part of the body's defense mechanism, and an extremely normal short-term immune response to trauma, illness and stress.  Long-term inflammation however, can be caused by poor nutrition and lifestyle choices such as lack of good quality sleep or exercise. The good news is that anti inflammatory foods, exercise, adequate sleep, and stress management can help with chronic inflammation. And in many cases, additional support from supplements is very helpful.  
Here are some anti inflammatory foods and supplements that I love to incorporate daily to keep my body functioning optimally! 
 
Berries -  Berries pack a big punch of fiber, vitamins, and minerals. Additionally, they contain antioxidants that have anti-inflammatory properties. The best part about berries is their versatility. We recommend a daily morning smoothie with our pineapple berry clean collagen!

Fatty fish - Fatty fish are a great source of protein and long-chain omega-3 fatty acids. Your body metabolizes these fatty acids into compounds which have anti-inflammatory effects.  Salmon, mackerel, tuna and sardines are great fatty fish options to include in your diet for all the omega-fatty benefits.

Peppers - Bell peppers and chili peppers are loaded with vitamin c and antioxidants that have powerful anti-inflammatory effects. Bell peppers also provide quercetin, an antioxidant, which has been known to reduce inflammation. Peppers are perfect for snacking on-the-go and they are delicious when grilled and added to stir-fry's.   

Turmeric - Turmeric contains a powerful anti inflammatory substance, curcumin. Curcumin fights inflammation at the molecular level by blocking inflammatory signaling molecules. Looking for effective joint pain and inflammation relief? Turmeric may be your solution. Try our fast joint care with fermented turmeric! 

Dark Chocolate - Yes, chocolate can be good for you! Dark chocolate is packed with antioxidants that help reduce inflammation! Flavanols are responsible for chocolate's anti-inflammatory effects and help keep the cells that line your arteries healthy. Try and stick to 70% and higher, and don't be afraid to enjoy daily!

Ginger – Ginger is known to help reduce inflammation and fight physical swelling. Adding fresh ginger to dressings, sauces and smoothies is a great way to get this superfood in.

Garlic - Garlic is especially high in a potent anti-inflammatory agent that helps strengthen the immune system to better fight off disease-causing pathogens. Adding garlic to meals is always a sure way to add a flavor boost as well! 

Cherries - Cherries are delicious and rich in antioxidants that help decrease inflammation. I love adding them to salads or throwing frozen ones into the base of my smoothie bowls. 

Vitamin C Supplement - Vitamin C, is an essential vitamin and antioxidant that reduces and regulates inflammation. 

Omega 3 Supplement - Similar to consuming fatty fish, an omega-3 supplement can reduce the production of molecules and substances linked to inflammation. Your body can't manufacture omega-3 fatty acids naturally, so it's important to get them through diet and supplementation. And because it's not always convenient to get adequate amounts of EPA and DHA from food sources alone, an omega supplement is an essential addition to your daily routine. 
I love Genuine Health's Omega line up for its quality and convenience of gel capsules, and tasty
liquid formulas for adults and kids alike.
Looking to add some omega-3's into your diet without
the fishy taste? Come explore Genuine Health's
Omegas products
! I'm sure you'll find
something you love.
Use left/right arrows to navigate the slideshow or swipe left/right if using a mobile device