Loaded Acai Smoothie Bowl
Posted on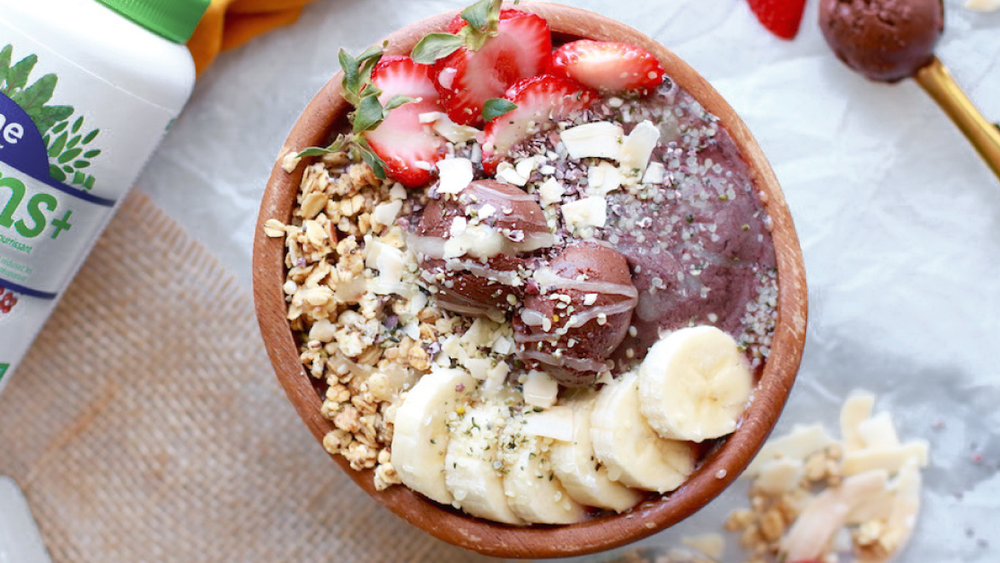 Most likely you've tried an acai bowl before, but have you ever made one yourself? We love this recipe because it takes your typical acai bowl to the next level with the added benefits of
greens+ bone builder.
The bowl is already packed with antioxidants from fruit, but it's also boosted with a sneaky serving of
greens+ bone builder
for an extra phytonutrient kick and provides powerful bone-building vitamins and minerals including Vitamins C, D3, Lycopene and 3 forms of Calcium.
This bowl is decadent on its own, but if you really want to go for it, you can top it with a delicious chocolate coconut custard!
Ingredients:
1 banana(I recommend using frozen banana)
½ cup frozen strawberries
1 frozen acai packet (look for unsweetened)
1 scoop of greens+ bone builder blackberry
¾ cup unsweetened vanilla almond milk
Directions:
Create the chocolate coconut custard beforehand.
Soak the dates in warm water then drain, reserving 2 tablespoons of the date water.
Add the soaked dates and the date water to a high-speed blender.
Add in the cocoa powder, coconut cream, and pure maple syrup.
Blend until smooth then transfer to a ramekin or bowl and set in the freezer to chill for 1-2 hours*.
To prepare the acai bowl add the acai bowl ingredients to a high-speed blender and blend until smooth.
Transfer the acai smoothie mixture to a serving bowl.
Top the smoothie mixture with the sliced banana, strawberries, granola, hemp seeds, coconut, cocoa nibs, and two scoops of the chocolate custard*.
Drizzle with the honey.
Enjoy!
Notes
The Chocolate Coconut Custard portion of the recipe will make more than needed for one acai bowl, save the rest by storing in the freezer in an airtight container and use for more acai bowls to save time or enjoy as a treat on its own.
If you leave the custard in the freezer for longer than 2 hours it will harden, simply let soften at room temperature until it is a scoop-able consistency.
Use left/right arrows to navigate the slideshow or swipe left/right if using a mobile device