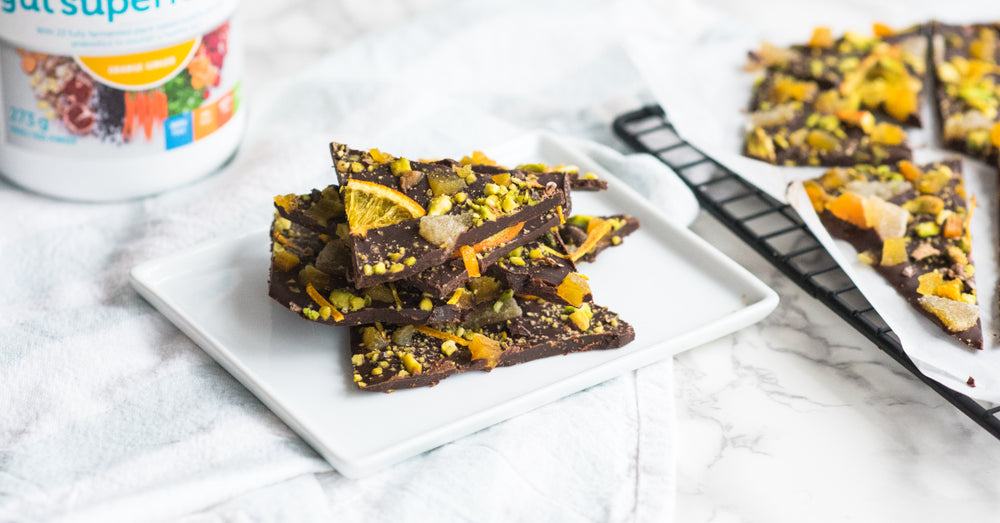 Looking for the perfect festive treat for your next event? This Orange-Ginger Chocolate Bark will not only catch people's eyes, but their taste buds too! The chocolate is made from scratch with wholesome ingredients like maple syrup, freshly squeezed orange juice, cacao powder and coconut oil. Then it's topped with candied ginger, roasted navel oranges and sea salt making each bite burst with flavour!
Ingredients:
Directions:
Line a large baking tray with parchment paper and set aside.

Create a double boiler by filling one larger pot with water and placing a smaller bowl or pot inside. Slowly heat the water on the stove. Make sure no water gets into the inside pot this will ruin the melting chocolate!

Once the water has been heated, add all chocolate-making ingredients into the small pot and stir slowly as it melts. Make sure all the ingredients are completely melted and mixed before moving onto the next step.

When your chocolate is completely mixed, turn the heat off and keep stirring for about one minute. Mix in the 2 scoops of fermented organic gut superfoods+ orange ginger and freshly squeezed orange juice. Continue to stir until thoroughly mixed.

Scoop the chocolate mix onto the baking tray lined with parchment paper. Using a spatula or back of a large spoon, slowly spread out the chocolate mix evenly until it covers the entire tray.

Once your chocolate mix has been spread out evenly on your tray, sprinkle all of the topping ingredients over top.

Once you have covered your mix with all the toppings, carefully place the tray into your freezer and let it sit for at least 4 hours or, for best results, overnight. Once the chocolate has firmed up, break it apart with your hands into desired sizes and shapes. Or cut with a knife of pizza cutter for a clean-edge look!

Store in a seal glass container in the freezer until ready to eat. Do not let chocolate sit out for too long, it will melt after some time.
Use left/right arrows to navigate the slideshow or swipe left/right if using a mobile device