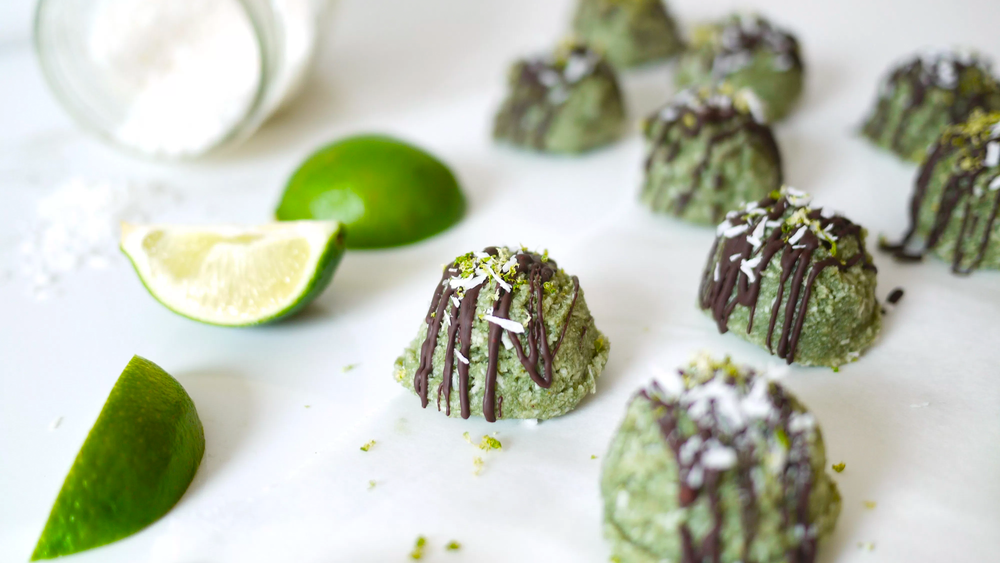 A raw coconut macaroon – crunchy on the outside and chewy on the inside – is a beautiful thing. Even more beautiful when sweetened with honey and spiked with the phytonutrient goodness of
greens+
! Whip these up and enjoy them all week – the medium chain fatty acids in the shredded coconut and coconut oil are an excellent source of energy for the body!
Ingredients:
2 ½ cups raw shredded coconut (reserve ½ cup for last pulsing)
3 tbsp raw honey or pure maple syrup
3 tbsp melted coconut oil
1 lime (juiced and zested for garnish)
1 tsp vanilla extract
⅛ tsp sea salt
1 scoop greens+ original
Directions:
Add all ingredients to food processor with S blade and mix until well combined.
After green coconut mixture is well combined, add reserved ½ cup shredded coconut and pulse until mixed, but still maintaining some texture.
Line a cookie sheet with parchment paper and using a small cookie scoop, scoop about 12 rounds onto paper (you can do this by forming into balls with your hands too).
To melt chocolate chips, either use a double boiler or a heatproof dish that fits snugly onto a saucepan. Bring about 1 inch of water to a gentle boil in a saucepan. Meanwhile, add dark chocolate chips to your heatproof bowl (glass or ceramic). Place bowl of chocolate chips on top of saucepan with simmering water (the water should NOT touch the bottom of your heat-proof bowl). Gently stir until chocolate chips are melted. Remove bowl from heat before the last few bits have melted and reserve for drizzling.
Once melted chocolate has cooled a bit, drizzle over macaroons and then top with additional shredded coconut and lime zest.
Refrigerate about an hour until firm and cool.
Store in an airtight container up to week!
Use left/right arrows to navigate the slideshow or swipe left/right if using a mobile device