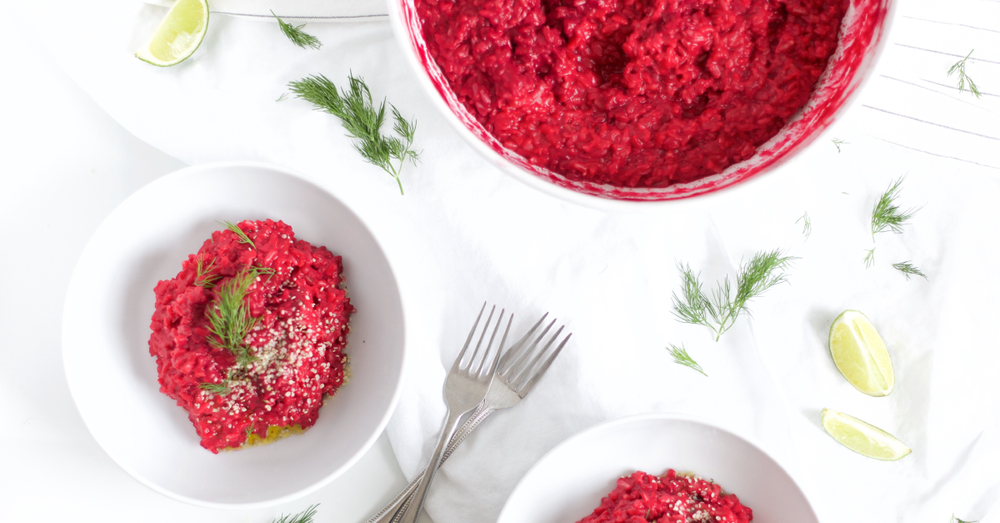 You're going to fall in love with this vibrant, nutritious and most importantly delicious risotto recipe! With simple swaps this dish is made healthy by using short-grain brown rice instead of white rice and coconut-milk instead of butter. It gets its amazing colour from the roasted beets and even has a hidden ingredient that gives your gut some extra lovin' – can you guess what it is?
Perfect for a summer BBQ or potluck, you can enjoy it warm or cold and feel free to get creative by adding nuts and seeds or topping it with sheep yogurt, or parmesan cheese!
Ingredients:
3 medium beets, washed and wrapped in foil
1/2 red onion, finely diced
2 cups brown rice, rinsed and cooked according to directions
Juice of 2 limes
1 can, full-fat coconut milk
1 tsp sea salt
Freshly ground pepper
Directions:
Preheat oven to 350F
Roast foil-wrapped beets 1 hour
While beets are roasting, dice onion and add to pot of rice to cook (I used short-grain brown rice, but you can use whatever you have on hand)
Boil rice, water and onion according to your rice's directions
When rice is finished cooking, leave lid on for a minimum of 10 minutes to allow rice to soak up all the moisture
Unwrap slightly cooled beets (no need to peel), cut into quarters and add to blender along with coconut milk, lime juice, fermented superfood powder, salt, pepper and blend until smooth
Fluff rice/onion mixture and add to large bowl. Pour in roasted beet/coconut sauce and stir until evenly combined.
Serve immediately. Garnish with hemp seeds, fresh dill or drizzle of olive oil or add to casserole dish for reheating later.
Use left/right arrows to navigate the slideshow or swipe left/right if using a mobile device