Green Detox Smoothie Bowl
Posted on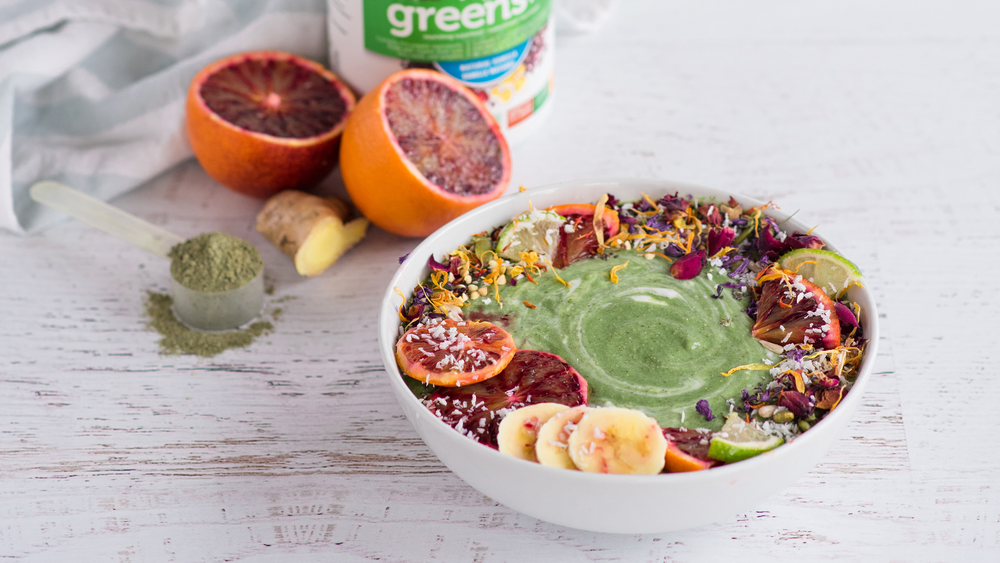 Looking for the perfect, fresh, green smoothie? This low sugar smoothie bowl is loaded with
greens
and a little bit of fruit, and spiked with lime juice and fresh ginger for BIG taste! There's also a surprise creamy (and nutrient-rich) boost from frozen cauliflower. (You can't taste it, we swear!)
Personalize your smoothie bowl with your favourite toppings, or a swirl of your favourite coconut yogurt to make it extra creamy!
Ingredients:
a large handful of spinach
1.5 cups of frozen cauliflower (lightly steamed first, then let cool and freeze)
1 scoop of Genuine Health greens+ multi+ vanilla
¼ of a ripe avocado
2 tbsp of chia seeds
1 tbsp of ground flax seed
1 tbsp of fresh lime juice
¾ of a cup of almond milk
½ tbsp of chopped fresh ginger (add in more if you love ginger!)
¼ cup of pineapple
½ a blood or regular orange
2 to 3 ice cubes
Optional:
For a more creamy texture, blend in 2-3 tbsp of your favourite coconut yogurt or swirl it in after blending.
Directions:
Place all ingredients into a high-speed blender and blend until smooth!
Once everything has been blended together, pour mixture into your favourite smoothie bowl and top with the smoothie bowl toppings!
Enjoy!
Use left/right arrows to navigate the slideshow or swipe left/right if using a mobile device