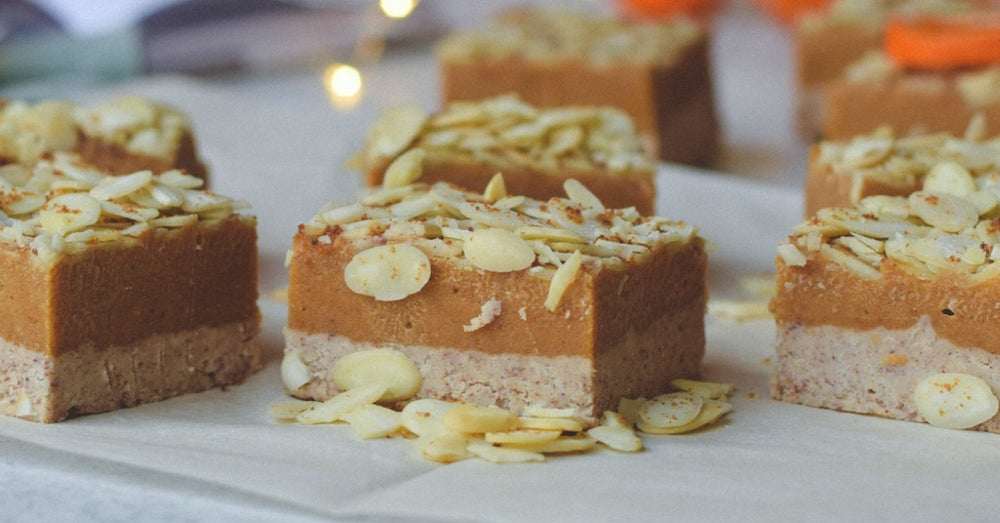 Plant-based, creamy and easy to make, these Vanilla Ginger Orange Pumpkin Bars will be a hit with the whole family— vegans and all! Their nougat base is rich in protein from cashews, walnuts, almond meal and macadamia nuts, while the top layer is creamy with coconut milk, mango, and pumpkin puree. These bars are full of so many goodies and even have an extra boost of prebiotics and phytonutrients, thanks to our 
fermented organic gut superfoods+
Ingredients:
1 cup cashews, raw
1 cup macadamia nuts, raw
½ cup coconut cream
⅓ cup walnuts
¼ cup coconut oil, melted
¼ cup maple syrup or agave
¼ cup almond meal
1 tsp. vanilla extract
1 tsp. cinnamon
Directions:
Line an 8×8 pan with parchment and set aside.
Into a high-speed blender add all your ingredients for the nougat base. Blend this for around 2-3 minutes or until completely smooth and silky. It's worth it, trust me. Once your mixture is ready transfer it to your baking tin and flatten out till even. This is a bit of a sticky process but I added a spray of coconut oil to my spatula and it made the process a bit easier. Place in the freezer while you make the caramel.
Now let's make that pumpkin filling topping. This is nice and simple, once again, just add all the ingredients into a high-speed blender and blend till completely smooth. Stay patient and blend for around 2 minutes so you achieve that really silky effect when eating these bad boys. Transfer this mixture onto the nougat base and spread until flat and beautiful.
Add your almonds and coconut sugar.
Lightly cover with parchment and set in freezer for around 4 hours.
Cut into squares and serve. I like to let them thaw for around 5 minutes before eating!
Store in freezer for up to 1 week.
Use left/right arrows to navigate the slideshow or swipe left/right if using a mobile device