A Deeper Dive into the Gut Brain Connection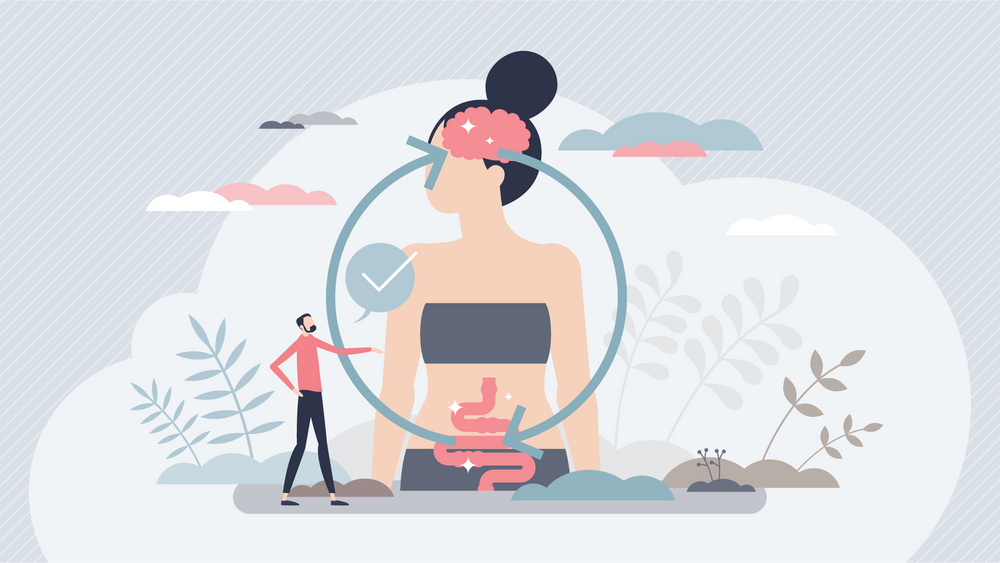 If you've ever watched a nature documentary, you'll know how important it is for every ecosystem to have a wide diversity of animals, plants and insects to keep it healthy and functioning well. The human body is no different. There's a carefully balanced ecosystem of bacteria, fungi, viruses and microbes in your gut that all rely on one another to keep your body healthy.  
When this ecosystem is disrupted - through stress, diet or antibiotics - it can cause a wide range of illnesses, including mental health problems like anxiety, depression and even brain fog. This connection between our gut and emotional wellbeing provides even more reason to take proper care of our gut health. To help you better understand how this all ties together, let's look into what the gut-brain connection actually is and how it works. 
What is the gut brain connection and how does it work?
The gut and the brain communicate constantly via the central nervous system, neuroimmune and circulatory systems. The gut microbiota influences the chemical signals that are sent to the vagus nerve - one of the biggest nerves connecting your gut and brain - and the regulation of hormones in the body. It also plays a role in a wide range of other processes including your immune and digestive system function. 
According to a 2021 research review, the gut microbiota has been shown to influence these 3 major chemicals in the body: 
Serotonin
Serotonin is a neurotransmitter involved in the regulation of essential processes in the body including mood, behaviors and gastrointestinal function. While serotonin is distributed throughout the body, 90-95% of this key neurotransmitter exists in the gut. If something is off in your gut, it can quickly lead to problems with serotonin circulation in the body.  
Dopamine
Another essential neurotransmitter that's regulated in the gut, dopamine, plays a critical role in a range of physiological processes including emotion, attention, memory and food intake. Problems with dopamine regulation have been linked to mental health problems including anxiety, depression and ADHD. 
Noradrenaline
Known for a long time to play an important part in the development of anxiety and depression, noradrenaline levels may also be influenced by the gut microbiota. There is growing research that this is another important player in the gut-brain connection that can seriously impact your mental health. 
These are clear links between the connection between the gut and brain with several neurotransmitters directly influenced and modulated by the gut microbiota. But what can be done to improve gut health and limit the development of gut related diseases? 
4 ways to support your gut for better mental health
While there are many ways your gut health can be harmed and disrupted, there are also ways you can improve your gut health and support the development of a healthier microbiota. Here are 4 ways to support your gut health that you can start doing today! 
Adjust your diet
One of the biggest factors influencing gut health and the gut-brain connection is your diet. A whole host of research has demonstrated that diet can make or break your gut health, leading to an abundance of healthy bacteria or an influx of bad, harmful bacteria. 
Research has shown that eating more plant foods and avoiding ultra-processed foods is the best way to support and improve gut health. Fiber has an important role to play in supporting a healthy gut while high-fat, high-sugar diets, including large amounts of fried food and processed food, should be avoided. 
For a healthier gut and a happier body, aim to add more plant foods to your diet including a wide variety of fruit, vegetables, nuts and grains, as well as more fermented foods like raw sauerkraut, kimchi and kombucha. 
Probiotics
Changing your diet can have a huge impact on your gut health but if you want to give your gut microbiota an extra boost, probiotic supplements are a great way to go. Probiotics can have a positive impact on conditions related to the central nervous system, including anxiety, depression and autism spectrum disorders. 
If you've been experiencing periods of high stress or prolonged illness or if you've taken a course of antibiotics recently, a high strength probiotic can help to restore your gut microbial balance by delivering billions of good bacteria to your gut. 
Sleep
Add your gut health to the list of things a good night's sleep can improve! Sleep and gut health are closely linked and research has revealed that key groups of intestinal bacteria can influence your sleep quality and circadian rhythm.  
Good quality sleep can improve gut microbiome diversity and abundance while sleep loss and sleep disruption can impact the composition of the gut microbiota, reducing the levels of good bacteria and changing the metabolic functions of the microbiome.  
To support your gut health, it's important to prioritize good quality sleep and take steps to sleep better as often as possible. 
Exercise
As well as diet and sleep, exercise can also shape your gut microbiome and the influence it has on your brain and mental health. Research has shown a strong link between physical activity and anxiety and depression.  
Exercise can impact the composition of the gut microbiota, improving the richness, diversity and abundance of the gut microbiome and controlling the balance between good and bad bacteria in the gut. Regular exercise of at least 3 hours per week can benefit your mental health, encouraging more bacteria groups in the gut that are known to have positive effects on the brain. 
The gut-brain connection has an extreme influence on your mood and mental health, but with the right diet and lifestyle changes, you can build a healthy gut and a healthier mind. To learn more, read this next! 
Use left/right arrows to navigate the slideshow or swipe left/right if using a mobile device