Cherry Chocolate Zucchini Smoothie Bowl
Posted on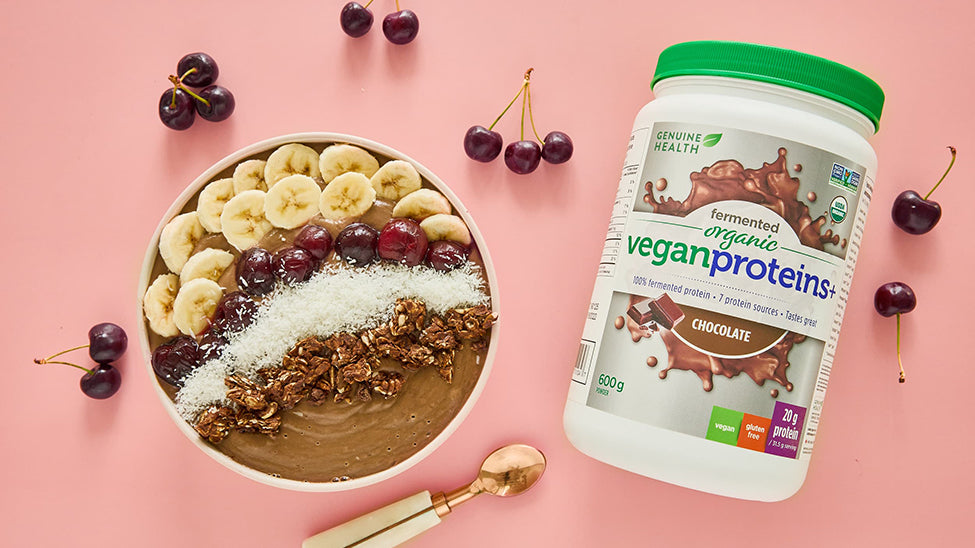 "When I was a teenager my go-to ice cream was Ben & Jerry's "Cherry Garcia." Now that I'm all grown up, I make this creamy, delicious and super healthy smoothie bowl with wonderful whole-foods based ingredients! Along with avocado, zucchini is the ultimate secret smoothie hack for adding creaminess and thickening it up without sacrificing flavour. Zucchini is a great low carb squash that is rich in both soluble and insoluble fibre making it excellent for gut health. I used my favourite protein powder, Genuine Health's fermented, organic vegan proteins+ chocolate! This is my go-to protein because it is excellent for gut health since all 7 plant proteins are fermented, making the proteins highly bioavailable." -Joy
Ingredients:
2 cups fresh or frozen cherries, if using fresh, be sure to remove the pits before blending
1 cup fresh spinach
Half a zucchini
Half an avocado
2 bananas
1-2 cups plus more if need non-dairy milk
Optional: 2 tbsp honey or 10 drops stevia
Toppings:
Rawcology Chocolate Oat Clusters
1/4 cup shredded unsweetened coconut
Sliced banana
Sliced cherries
Directions:
Place all the ingredients excluding the milk into a blender. Add milk 1 cup at a time to desired thickness. You want the smoothie almost as thick as pudding so the toppings sit on top easily. Blitz until smooth and creamy.


Pour smoothie into bowl. Place desired toppings on top of smoothie bowl. Have fun!
Use left/right arrows to navigate the slideshow or swipe left/right if using a mobile device