How to support your immunity in the fall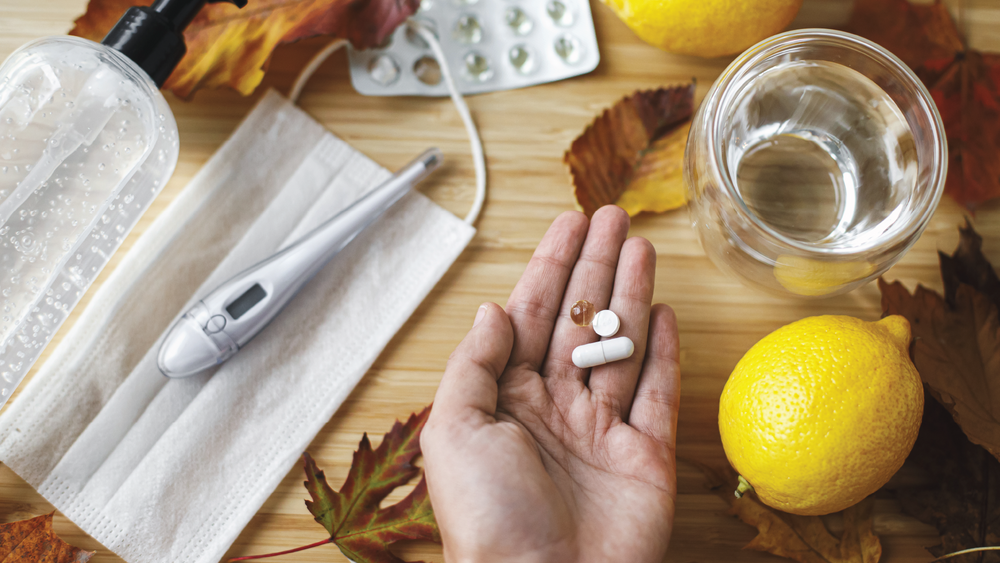 If you're familiar with winter colds, sniffles and sore throats, you'll know how important it is to support your immune system in the fall and winter months.  
Unfortunately for most of us in the Northern hemisphere, summer doesn't last forever. As the weather gets colder, your body needs extra support to keep it healthy and functioning well. Here are 3 ways you can help support your body through the changing seasons and keep illness at bay. 
Increase your intake of anti-inflammatory foods
If you're living in a seasonal climate with extreme changes between winter and summer, it's important to support your body with anti-inflammatory foods. 
Why? Research shows that for people living in seasonal climates with cold winters, their gene expression changes during the winter months to increase the body's natural inflammatory response.  
This is an ancient adaptation to help you ward off colds, flu and other nasties - but it also increases your risk of illnesses such as cardiovascular disease, rheumatoid arthritis and Type 1 diabetes. 
To support your body during the tough winters, boost your intake of anti-inflammatory foods, including: 
Cruciferous vegetables: 

The fall and winter months are when cruciferous vegetables like broccoli, kale and brussel sprouts come into their peak season. This veggie group is perfect for supporting your immune system thanks to their high vitamin C and antioxidant content which has anti-inflammatory benefits.

 

Green tea: 

Rich in 

polyphenols

, green tea has a range of health-promoting benefits, including anti-inflammatory, antioxidant and immune supporting effects. Try to have a cup of green tea every day or try our 

c

lear focus blend,

 formulated with green tea extract, anti-inflammatory Lion's mane mushroom and adaptogenic red ginseng.

 

Omega-3 fatty acid-rich foods

: Foods high in omega-3 fatty acids have been proven to help reduce inflammation in the body. The best sources are oily fish like salmon and sardines or you can opt for a 

fish oil supplement

.

 
Improve your gut health with probiotics
As much as 80% of the immune system is located in the gut! 
Your gut contains a mass of bacteria, microbes and cells that are essential for the healthy function of your immune system. The gut microbiota stimulates the immune system, promoting the maturation and function of immune cells that help to fight seasonal colds and flus. 
Probiotics improve the microbial balance in the gut by delivering live beneficial bacteria to your digestive system. They have been found to protect against infections and decrease gut inflammation. Probiotics also inhibit the growth of pathogenic bacteria - the bad guys that make you sick. 
If you want to give your immune system an extra boost and support your immunity in the fall, consider adding an advanced gut health probiotic to your daily diet. 
Add a vitamin D supplement
Vitamin D is essential for keeping your immune system functioning well - but vitamin D deficiency is widespread in a lot of the population, especially during fall and winter. If you live somewhere with low light levels and less sunlight in the fall and winter, it's essential to take a vitamin D supplement to support your immune system. 
Try our triple strength omega3 capsules with added vitamin D to get your daily recommended dose of vitamin D every day and give your body some love during the colder months. 
Keep seasonal colds and flu away
During the fall and winter, it's tough to avoid seasonal colds and flus - but with the right blend of immune-boosting foods, drinks and supplements, you can support your immune system and improve your defense against common illnesses.  
To find out more about immune support when you're travelling, read this next. 
 
Sources 
Castro Dopic, X. et al. Widespread seasonal gene expression reveals annual differences in human immunity and physiology. Nature Communications 2015 May;6(7000).

 

Favela-González, K.M., Hernández-Almanza, A.Y., De la Fuente-Salcido, N.M. The value of bioactive compounds of cruciferous vegetables (Brassica) as antimicrobials and antioxidants: A review. Journal of Food Biochemistry 2020 Aug;44(10).

 

Tilg, H. Cruciferous vegetables: prototypic anti-inflammatory food components. Clinical Phytoscience 2015 Nov;1(10).

 

Wang, S. et al. Immunomodulatory Effects of Green Tea Polyphenols. Molecules 2021 June;26(12):3755.

 

Kwon, Y. Immuno-Resolving Ability of Resolvins, Protectins, and Maresins Derived from Omega-3 Fatty Acids in Metabolic Syndrome.  Mol Nutr Food Res 2020 Feb;64(4).

 

Maldonado Galdeano, C. et al. Beneficial Effects of Probiotic Consumption on the Immune System. Annals of Nutrition and Metabolism 2019;74:115-124.

 

Chirumbolo, S. et al. The Role of Vitamin D in the Immune System as a Pro-survival Molecule 2017 May;39(5):894-916.
Use left/right arrows to navigate the slideshow or swipe left/right if using a mobile device