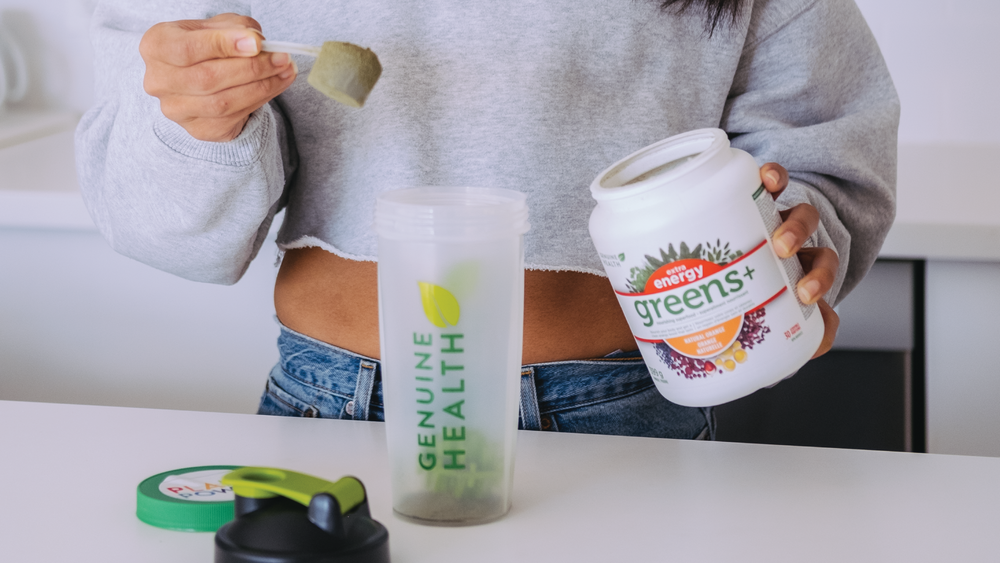 Choosing supplements can be tricky when trying to find the best fit that works for you. Our wide range of greens allows you to choose a supplement that aligns with your health goals and needs! Below, each of our Greens+ products are broken down, explaining what they do and how they work. 
Want to enhance your health?  
Passionate about fueling your body properly?  
New to the greens world? 
Our Original Greens+ is a basic green powder that anyone can benefit from. New to trying greens? This may be a great fit for you. This supplement helps to promote immune support, increase energy, and maintain overall health. It's filled with superfoods which contain phytochemicals sourced from plants that are nearly impossible to obtain from your diet alone. Phytochemicals are naturally occurring components in vegetables and fruits that have unique benefits. (1) Original Greens+ also contains probiotics, like what you find in yogurt. These living microorganisms support a healthy microbiome in your gut, by aiding absorption and digestion! Below you'll find some of our Greens+ ingredients highlighted, along with why we chose to include them in our blend! 
Royal Jelly:

Helps to support wound healing

(2)

 

Spirulina Cells:

A powerful antioxidant that helps to maintain good health

(3)

Japanese Chlorella:

Supports overall health through antioxidant properties

(4)

 

Ginkgo Biloba:

Helps to enhance cognitive function

(5)

 
Up next are two products we get really excited about. Greens+ Extra Energy and Greens+ Daily Detox! These products are specially formulated to enhance energy and cleanse the body.  
Lacking energy?  
Want an extra boost in the morning?  
Looking to reduce fatigue? 
Our Greens+ Extra Energy can be a great fit if the above applies to you! This product is our Original Greens+, with some added ingredients to help maintain wakefulness, alertness, cognitive performance, and relieve fatigue. The unique blend in this product includes L-Taurine, Kola Nut Seed extract, L-Tyrosine, Rhodiola, Astragalus, and Gotu Kola, just to name a few ingredients. Kola nut seed is a source of natural caffeine and helps to maintain metabolism! Each of these ingredients are included for a specific purpose related to enhancing energy.  
L-Taurine:

Involved in energy production

(6)

 

Kola Nut Seed Extract:

Increases alertness

(7)

 

Gotu Kola:

Helps to support cognitive function

(8)

 

Rhodiola:

Supports cognitive function, helps to maintain energy throughout the day

(9, 10)

 
Does your body need a detox?  
Want to prevent future build-up of toxins? 
Looking to help your liver to perform its best? 
Greens+ Daily Detox is a product designed to get your body feeling its best. The liver is an organ that is responsible for capturing the toxins in our bodies so that we don't absorb them. Sometimes our liver can use some help, and this is where our Greens+ Daily Detox comes in. Our product developers formulated a blend of ingredients that specialize in supporting our liver! Rice Bran Hull Powder, Glycine, L-Glutamine, Flax Seed Concentrate, Citrus Bioflavonoids, Broccoli Seed Extract, and Milk Thistle are a few ingredients in this product that help to support our liver with detoxification. 
Rice Bran Hull Powder:

Source of fibre (helps with digestion!)

(11)

 

Glycine:

Essential component in many bodily processes necessary for detoxification

(12)

 

Flax Seed Concentrate:

Supports liver function

(13)

 

Citrus Bioflavanoids:

Supports liver detoxification and reduce inflammation

(16)

 

Milk Thistle:

Supports liver function

(14)

 

N-Acetyl Cysteine:

Source of antioxidants to maintain liver health

(15)

 

This compound is very important in our bodies!

 

Artichoke Leaf Extract:

Supports liver health (unique ingredient not used in many other greens products on the market – selling point)

(17)

 
Below are our 3 remaining greens products. Each of these blends also have a specific function to optimize your health. Check them out! 
Want a greens powder with more than just greens? 
Do you take multivitamins?  
If you're looking to limit the supplements you take, but still want all the benefits, we got you covered with our Greens+ Multivitamin. This greens powder includes a wide variety of vitamins and minerals typically found in a multivitamin, including B Vitamins, Folic Acid, Iodine, Vitamin A, Vitamin C, Vitamin E, along with many essential minerals your body is unable to produce naturally. This product will give you all the benefits of our Greens+, while also helping to support your immune system, bone development and cardiovascular health.  
Want additional nutrients that support stronger bones? 
Worried your calcium intake is too low? 
Greens+ Bone Builder is a product specially formulated to support the development and maintenance of bones. This product is actually 15x more effective than calcium on its own in supporting the formation of bones! Calcium, Vitamin B6, Zinc, and Lycopene are only a few ingredients in our blend that help to maintain growth stimulation, protection, and metabolization of our bones. Calcium is not the only thing essential for bones however, Magnesium, Vitamin D, and Vitamin K are all equally important for optimal bone health. If you want to maintain strong bones and gain all the benefits of phytochemicals from greens, this is the product for you! 
Looking for a convenient supplement for full-body health?  
Want to maximize your nutrition?  
The Greens+ Whole Body supplement combines a multitude of ingredients that can replace more than 9 supplements in your cupboard. Talk about convenience! This jam-packed powder targets your whole body and supports everything from eye health and bone health, stress, and is even a source of fibre and omega-3 fatty acids. On top of all those benefits, this blend is also fermented, providing a source of probiotics which is essential for gut health. If you're looking for a whole-body solution, Greens+ Whole Body may be the right fit for you! 
Sources  
Xiao, J., Bai, W. Bioactive phytochemicals. Science and Nutrition 2019 March; 59(6):827-829. 

 

Pasupuleti, V. R. et al. Honey, Propolis, and Royal Jelly: A Comprehensive Review of Their Biological Actions and Health Benefits. Oxidative Medicine and Cellular Longevity 2017 July; 2017. 

 

Wu, Q. et al. The antioxidant, immunomodulatory, and anti-inflammatory activities of Spirulina: an overview. Archives of Toxicology 2016 June; 90:1817-1840.

 

Bito, T. et al. Potential of Chlorella as a Dietary Supplement to Promote Human Health. Nutrients 2020 August; 12(9):2524.

 

Cieza A. et al. Effects of Ginkgo biloba on mental functioning in healthy volunteers. Archives of Medical Research 2003; 34(5):373-381

 

Schaffer, S. W. et al. Effect of taurine and potential interactions with caffeine on cardiovascular function. Amino Acids 2014 March; 46:1147-1157.  

 

Kruszewski, M. et al. Effects of Multi-Ingredient Pre-Workout Supplement and Caffeine on Bench Press Performance: A Single-Blind Cross-Over Study. Nutrients 2022 April; 14(9). 

 

Wattanathorn, J. et al. Positive modulation of cognition and mood in the healthy elderly volunteer following the administration of Centella asiatica. Journal of Ethnopharmacology 2006 March; 116(2):325-332. 

 

Lamadrid, P. et al. The impact of dietary supplement NT-020 with Rhodiola rosea on energy, fatigue, and perceived exertion. Functional Foods in Health and Disease 2019; 9(11):706-718.

 

Olsson, E. et al. A Randomised, Double-Blind, Placebo-Controlled, Parallel-Group Study of the Standardised Extract SHR-5 of the Roots of Rhodiola rosea in the Treatment of Subjects with Stress-Related Fatigue. Planta Med 2009; 75(2):105-112. 

 

Sharif, M. K. et al. Rice Brain: A Novel Functional Ingredient. Science and Nutrition 2014 January; 54(6):807-816.  

 

Razak, M. A. et al. Multifarious Beneficial Effect of Nonessential Amino Acid, Glycine: A Review. Oxidative Medicine and Cellular Longevity 2017 March. 

 

Yari, Z. et al. The efficacy of flaxseed and hesperidin on non-alcoholic fatty liver disease: an open-labeled randomized controlled trial. European Journal of Clinical Nutrition 2020 July; 75:99-111. 

 

Velussi M. et al. Long-term (12 months) treatment with an anti-oxidant drug (silymarin) is effective in hyperinsulinemia, exogenous insulin need and malondialdehyde levels in cirrhotic diabetic patients. Journal of Hepatology 1997 April; 26(4):871-879.

 

Zembron-Lacny A. et al. The comparison of antioxidant and hematological properties of N-acetylcysteine and ?-lipoic acid in physically active males. Physiological Research 2009;58:855-861.

 

Al-Aubaidy, H. et al. Twelve-Week Mediterranean Diet Intervention Increases Citrus Bioflavonoid Levels and Reduces Inflammation in People with Type 2 Diabetes Mellitus. Nutrients 2021 March; 13(4):1133. 

 

Musolino, V. et al. The synergistic effect of Citrus bergamia and Cynara cardunculus extracts on vascular inflammation and oxidative stress in non-alcoholic fatty liver disease. Journal of Traditional and Complementary Medicine 2020 February; 10(3):268-274. 
Use left/right arrows to navigate the slideshow or swipe left/right if using a mobile device